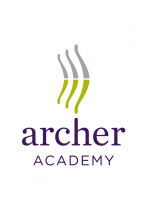 People often ask me, where do you get your ideas from? And it's an incredibly hard question to answer, because the creative process is different every time. Designing a logo may appear to be a smaller piece of work than, say, putting together a 48 page brochure, but in thinking terms, it's a far more complex, more layered job.
My brief from the Archer Academy team was relatively simple; to come up with a fresh, contemporary logo fit for a new school with creativity at its heart. The school has taken its name from Eric Aumonier's iconic statue, which sits above East Finchley station, and whilst we were keen to retain some links to that Archer, we also wanted the school to have a clear and separate identity of its own.
I had already designed the prospectus, the website and various posters and leaflets for the team, so a brand look and feel was already in place; minimal, clean, and stripped back, letting the words speak for themselves. But translating that into a logo was another thing entirely.
So I started, as I always do, with a few doodles here and there, breaking off from whatever else I was doing to scribble my thoughts down on paper. I soon decided that it was the bow, rather than the archer, that would be at the heart of my design, and started playing around with shapes and formations.
The early incarnations were less abstract, more conventional and more aggressive somehow than the finished result; a bow that you might see in the hands of Robin Hood, or the Archer himself. Over a period of a few weeks I honed and perfected the shape; stretching and smoothing out the lines, stripping the design back, all the while keeping in mind the fresh and contemporary vibe that I felt suited the school so well.
Also, over time, the single bow became three. Partly to represent the school's threefold vision of realising potential, inspiring creativity and engaging with the community; but also as a way of demonstrating growth and progress. The school's pupils will come in as children but leave as young adults, ready to make their way in the world with the confidence their education has given them, and this growth is symbolised within the logo itself.
So after weeks of thinking, refining and polishing, and a nerve-racking presentation to the Archer Academy team here it is; our 21st century logo for our 21st century school. Hope you like it.
Peter Copley
Designer, East Finchley resident and Archer Academy supporter